About Us
Water park owners and management are continually seeking new ways to maintain, improve and upgrade the curb appeal of water park attractions. SlideRenu® has developed a proprietary water slide maintenance system, chlorine resistant coatings and innovative landing pads that protect your guests, maintain the LIKE NEW appearance of your water park and extend the useful life your water park attractions.
We Stand Behind Our Products
All SlideRenu® products are backed by the most comprehensive product warranty in the industry. If you are not completely satisfied, we will send you a full refund or replacement product! For further details, please refer to the Limited Product Warranty.
We Stand Behind Our Services
All SlideRenu® services are guaranteed for one year when performed by our certified applicators. We will return to your water park and correct any failure at no cost to you! For further details, please refer to the Limited Product Warranty.
Water Slides
Ride Path Resurfacing
Exterior Painting
Polishing and Waxing
Fiberglass Repairs
Annual Maintenance Programs
Inspections
Water Slide Towers
Repainting / Rustproofing
Stair Tread Maintenance Programs
Installing Life Floor Stair Tread Covers
Aquatic Play Units
Repainting
Fiberglass Repairs
Hardware / Parts Replacement
Annual Maintenance Programs
Life Floor Stair Tread and Deck Flooring Installation
Splash Park Features
Repainting / Rustproofing
Fiberglass Repairs
Hardware / Parts Replacement
Refurbishing Soft Play Attractions
Annual Cleaning Programs
Aquatic Landing Pads and Play Surfaces
Fabricating Water Slide Landing Pads, Protective Corner Edge Pads and Custom Made Pads
Installing Life Floor Deck Tiles, Depth Markers, and Transition Pieces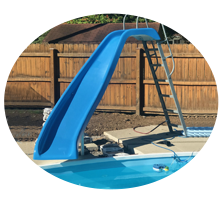 Residential Products
Resurfacing Kits for Fiberglass and Concrete Water Slides
Restoration Kits for Fiberglass Water Slides
Featured Products This Season
AquaSeal™
Cut your waxing time and costs by 50%!
AquaSeal™ is a unique liquid water slide wax that produces the quickest "WET LOOK SHINE" to dull color faded fiberglass water slides.

Reduces static charge and friction on the ride path.

REQUIRES NO BUFFING! Easily applied using a micro fiber cloth.

Provides a protective barrier against scale buildup.

One gallon will restore roughly 3,000 sq. ft.

Does not attract dust or dirt like most other sprayable waxes.

Use to clean and brighten stainless steel pool walls, handrails and remove tar, gum, bird droppings from all types of surfaces.
SlidePad®
Now features Life Floor landing surface!
AquaShield Products and Life Floor, the #1 aquatic surface flooring in the industry, have worked together to improve the safety aspects and softness of the landing experience. Life Floor's proprietary Ripple texture landing surface provides a slip resistant surface that is NSF/ANSI/CAN 50 rated and meets critical fall height requirements. We provide a 2-year warranty against wear, tear, fading and "pad floating" from pool floors.