Life Floor Tiles
With traction to prevent slips and cushioning to protect falls, Life Floor is the only safety surfacing engineered specifically for aquatics. Designed as 24″ x 24″ squares with two available textures and over 30 colors, these tiles enhance facility design and theming wherever they're installed. Life Floor improves customer experience at splash pads, pools, and waterparks worldwide by increasing play value, accessibility, and inclusivity. Life Floor's Ripple Tiles are the first and only safety surfacing certified to NSF/ANSI/CAN 50 for use in aquatic play areas.
Life Floor Tiles are available in 24" squares, making this shape the most popular and cost effective. Squares are often arranged in randomized color fields or bold geometric patterns.
We recommend Transition Strips at the edges of retrofit applications in order to reduce tripping hazards. They are designed to ramp down to grade from the edges of Life Floor Tiles. At 24″ long and 3″ wide, they can be cut to custom lengths and are ADA compliant.
Depth Markers & Safety Messaging
Depth Markers are cut from Life Floor and inlaid into tiles, ensuring that signage will last the full lifetime of our product. Letters, numbers, and graphics are never painted on. Instead, they are cut from Life Floor surface material.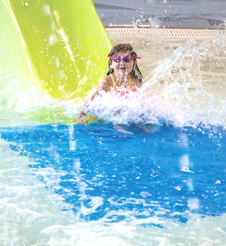 Modular Landing Pad Tiles
Life Floor's Modular Landing Pad Tiles are 7/8" thick. They will never absorb water and will remain slip-resistant even when submerged underwater. These modular 24" x 24" square tiles allow for custom sizing, design, and installation. They are adhered to the substrate using a commercial grade contact adhesive.