Who's Resurfacing
your Slide?
At SlideRenu® we understand and respect the investment you have in your water park's slides and aquatic features. Your water park's most vital assets shouldn't be entrusted to just anyone. While other contractors claim they can do the job, how do you know it will be done right? Investing in properly executed maintenance and refinishing services is just as important as your initial investment in your water slides. Selecting an inexperienced, untrained contractor is a risk that could cost your park additional money and unnecessary down time.
SlideRenu® values your investment and the trust our customers have in us by utilizing the services of certified applicators and contractors to perform and complete maintenance, refurbishment and resurfacing services.
SlideRenu® Certified Applicators
Have passed SlideRenu's rigorous training standards.
Must attend SlideRenu's annual Operations Conference.
Have resurfaced a minimum of 50 water slides over the past 5 years.
Carry liability and worker's compensation insurance that is in compliance with industry standards.
Are certified to operate man-lifts/mini-cranes.
Have passed OSHA training.
Have extensive experience applying SlideRenu's® proprietary SLIP-N-SHINE™ restoration system.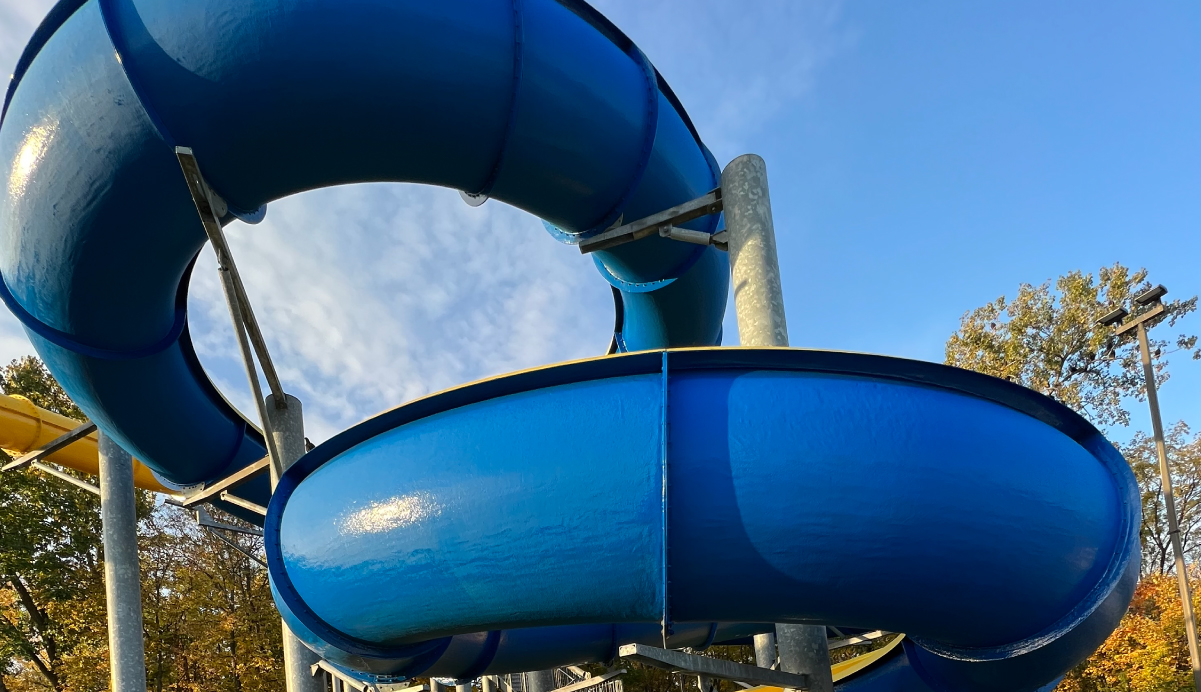 Water Slide Repair, Restoration and Repainting Services
In addition to water slide recoating, SlideRenu® also offers a variety of slide restoration services to ensure your water slides operate safely and efficiently throughout the entire season.
SlideRenu's® maintenance services come with a FREE trial sample of our water slide maintenance products. We also provide a complimentary inspection report for any water slide we work on. Our team of certified applicators have been trained in the proper methods to perform all water slide repairs and have in-depth experience using our entire line of water slide maintenance products.
Fiberglass Flume Repairs
Fiberglass Seam Repairs
Joint Recaulking
Permanent Joint Sealing
Interior Descaling, Polishing & Waxing
Exterior Cleaning & Painting
Slide Tower Painting
Life Floor Stair Tread Covers
Non-slip, self adhesive stair tape strips
Installation of Landing Pads, Stair Tread Covers & Non-Slip Surfaces
Anti-skid coatings
Professionally clean, descale, compound, wax and re-caulk joints on your water slide.
Apply our "one of a kind" clear chlorine-resistant, high-gloss coating, ChloraShield™, to bring back the permanent WET LOOK SHINE to the interior and exterior surfaces of your water slide and aquatic play features. Permanently seal gelcoat to prevent further oxidation, color fading and UV damage.
Refinish your slide with our proprietary "3 Coat System"; ABC Primer™, ColorShield™ gelcoat finish coating and ChloraShield™ clear protective chlorine-resistant sealer.
using our SlidePutty™ polyester glazing compound.
Create one continuous "seamless" joint between ride sections using SlideRenu® PermaSeam™ Sealing System. Guaranteed NOT TO LEAK FOR 5 YEARS or your money back! Learn more by downloading the PermaSeam™ product data sheet.
Professionally apply StairBrite™ to
clean and brighten aluminum, fiberglass and concrete stair treads on slide towers and  replace worn non-slip areas with StairTape™. DIY Life Floor Stair Tread Covers are available for the most effective solution to provide an anti-slip, safe surface.
Contact us if you would like a no obligation quotation to
resurface or professionally wax your water slide.
SlideRenu® is Registered to Do Business in All 50 States
Serving municipalities, hotels, campgrounds, cruise ships, home owner associations, and private water parks world-wide, we specialize in restoration, resurfacing and repair services. We are the only water slide restoration company that manufactures its own products that are specifically formulated to bring back the WET LOOK SHINE to dull color faded water slides, aquatic play features and water slide towers.
SlideRenu® offers water slide inspection, repair, resurfacing and a variety of maintenance services to ensure your water park's most vital assets are operating safely and efficiently. All of our services are performed by certified applicators who have extensive experience in the application of our products. They never perform any additional on-site work outside the initial project scope without your written approval.